Shopping Cart
Your Cart is Empty
There was an error with PayPal
Click here to try again
Thank you for your business!
You should be receiving an order confirmation from Paypal shortly.
Exit Shopping Cart
The 40th Annual Swap Meet was to be held in 2020 - however due to COVID we had to postpone.  It has now been rescheduled for October 17th.
For more information call Ron at 604 477-3954 or email [email protected]
The May Tour committee has decided to reschedule the 2020 May Tour to mid 2022 because of the continuing Covid 19 pandemic. We sincerely hope that by mid 2022 enough people will have been vaccinated to make holding the May Tour events a safe endeavour for all involved.
If you have prepaid some or all your registration, you can leave it with us and thus reserve your spot in the 2022 Tour or request a full refund.
We appreciate the support you have given us since we started planning the Tour in 2019 for a May 2020 extravaganza and anticipate your continued support as we navigate these unusual times on our way to a safe 2022 May Tour. We also appreciate the cooperation shown by the National President and the Powell River and Island Chapters in allowing us to make this adjustment to our May Tour.
Del Holbrook
Chair 2021 May Tour
19 Vehicles and their occupants took a leisurely drive down Lougheed Highway and over the MIssion Bridge through Matsqui and arrived at the home of Doug Taylor.  We were able to tour his beautiful collection of cars and memorabilia before travelling to the Old Spaghetti House in Langley for a late lunch. 
This was a great beginning to another season of tours - this one hosted by Bev and Don Clark.  The Nichol's brought along heart cookies for everyone to set the mood while we waited for everyone to muster.  Prior to leaving Bev Clark presented each car with a carnation and more heart shaped cookies.
Bev presented Doug & Paula Taylor a beautiful plant for a thankyou for allowing us to tour their extensive collection, which includes the award winning 1957 Ford Fairlane, Retractable hardtop.
We ended our day at the Old Spaghetti House in Langley where we all enjoyed a wonderful pasta meal and had great conversation.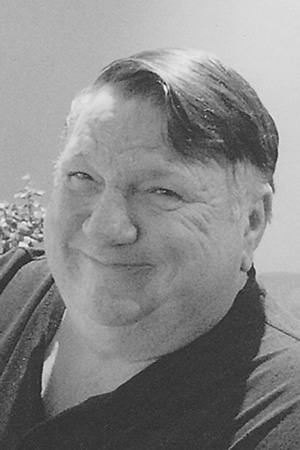 It is with great sadness that the family of Larry Goldsby announces his passing on December 30, 2016 at the age of 67. A Celebration of Larry's life will be held at 1pm on Jan. 21, 2017 at the Maple Ridge Baptist Church - 22155 Lougheed Hwy, Maple Ridge.
Larry will be lovingly remembered by his wife of 42 years, Leslie and his children, Craig (Natasha), Daryl (Helen) and pre deceased by youngest son Keith.
He leaves behind many extended family and friends. Larry was a heavy duty mechanic (marine division)with Finning until retirement. He loved scouting since young and was one of the founding members of the 31st BP Guild. A long time member of the Vintage Car Club of Canada, Golden Ears and Vancouver Chapter. Loved racing, old cars, woodworking and intarsia. Larry supported outreach in many communities. He knew the meaning of giving a hand up, lending knowledge, skills or manpower to an individual or group and just being there for support. Spending time with his family was first above all. We are ever thankful for you Larry. Although your earthy presence will be missed and a huge void in our lives, our memories and hearts are full. Love you and miss you.
Memorial donations may made to Saints Rescue, 33860 Dlugosh Ave. Mission, BC V2V6B2 / online- www.saintsrescue.ca or Scouts Canada- with Memo attached to Whonnock Scout Camp in memory of Larry Goldsby - attention Iqbal Lalany , office manager. 664 West Broadway Van. BC V5Z 1G1.
Condolences may be sent to www.mapleridgefuneral.ca
It was the most beautiful weekend, with great weather and good company and no breakdowns!
We headed out Hwy 7 to Hope to top the gas tanks up before heading toward our destination.  The traffic was light and all 10 cars managed to stay in sight of each other through the mountains.  We arrived in Osoyoos to beautiful sunny skies and booked into the Best Western Hotel.  We were given priority parking at the front of the hotel for the weekend.  After unpacking we headed up to the 'happy hour' room, which was a family suite on the third floor, complete with outdoor balcony.  Loads of room to sit and chat and plan our weekend.  Our hosts, Judy and Doug, had arranged for the hotel to put on an 'appy' spread in a private dining room instead of heading out for supper.  This worked out really well and was a great finish to our first day.
Saturday morning we met outside to go next door to the Rattlesnake amusement area.  We were divided into teams and played a round of mini-golf.  Some of our group had not played mini-golf since they were teenagers - so there was lots of fun and frivovility.   The go-carts called to us as we played our golf - so over we went to have a race!  Barry, Ross and Doug were the most aggressive - and Doug took a spin in the middle of the track, but didn't skip a beat!   Afterwards we were given our boxed lunches and we headed out in convoy to our first winery stop - Silver Sage Wineries.  We parked all together and headed to the lawn with our chairs and lunch.  After about 1 hour we were ushered inside to a group wine tasting where we had the chance to try up to 12 different wines - most of them late harvest dessert wines.    From there we took different routes back to the hotel, some stopping at other wineries along the way.  Supper was scheduled at the Wildfire Grill, we buddied up for the drive up town - ask Jan about her 'comfy' seat - some chose to walk back to the hotel after a great meal.
Sunday was going to be a full day.  We started off with a tour of JF Launier Kustoms where we had the opportunity to meet JF and see his wonderful creation Rivision.  This beautiful car started ot as a 64 Buick Riviera, but you could hardly tell.  JF was honoured with the Detroit Autorama Chevrolet Performance Ridler Award.  For over 50 years, the Ridler award has represented the best of the best. It's a defining moment to any car builder and if they're fortunate to win the trophy, it will further launch their career to the stratosphere. It's sort of like getting more street cred for already being in the trenches, or we should say, on the shop floor with torches and a welder. These builders are trying to create an over the top, one-off machine that will make the judges fall over backwards and unanimously vote for their car to be Ridler worthy.  Go check it out here.
Off to Hester Creek Winery for a tasting, and purchasing, then on to Tinhorn Creek Vineyards where we took over the amphitheatre for another beautful boxed lunch picnic and a game of bocci ball - following Judy's rules - or not!  Back at the hotel, a few brave souls went on to the bumper boats - Sharon was the only wise one and wore a bathing suit - the guys were in shirts and shorts.  Everyone ganged up on Sharon, but the boys were the wettest!  During all of this there was a wedding party having pictures taken and when we finished our fun, we found the bride and groom nestled up against Don's pickup for pictures - they then asked if they could sit in Angela's convertible for a couple - we all obliged and watched as the pictures were taken.
Supper was at Nk'mip Cellars on the patio.  The meal was served family style and consisted of a tasty tomato salad, prime rib, potatoes and veg and a fantastic dessert.  Of course wine was at the table too!  
The weekend is drawing to a close - here we are on Monday morning saying goodbye to 3 of our group as they are staying one more night.  The rest of us head out to Keremeos and stop to buy fruit and veggies.  We reach the Brown Bridge Pub in Princeton about lunch time and head out onto the patio for food and beverages!  This is our last stop before home - so again we say our goodbyes.  We were all in sight of each other as we reached Hope and headed down Hwy 7 to home. 
Thank you very much for a great weekend - Doug and Judy did a fantastic job of organizing everything - handing out prizes and keeping everyone in order!  See some pictures in our photo albums
6 vehicles met at Tim Horton's before travelling through the backroads to Fort Langley, picking up another car and on to Aldergrove.  The day was cloudy, but promissing.
On arriving at Otter Co-op at 248th and Fraser Hwy, we were greeted by the Central Fraser Valley Chapter members and registered.  Luckily we all parked together, but by 9:30 the lot was full.  The sun was out and everyone headed in to join the line in the Co-op for  breakfast - 2 eggs, bacon (or sausage if you liked) hashbrowns and toast for $2.99 - not bad, unlimited coffee was extra.  We met up with Dick and Harry and ushered them out of their seats so we could sit down.
The BBQ was lit and Fraser & Dorothy Field and Pa Morris cooked up lunch of hamburgs and hot dogs, helped out by the ladies of the Central Fraser Valley Chapter.   
The rain started about 11:00 and drizzled on and off until about 12:30.  Unfortunately most of our vehicles left.  Just the 38 Ford and 37 Dodge were left - at lest these two can weather the storm!!  And unlike the rest, the two oldies travelled home in the bright sunshine around 2:00 o'clock.
Thanks to all at Central Fraser Valley for a great day!
See pictures in our Photo Album.
Our Spring Swap meet was held on April 12th at the Albion Fairgrounds in Maple Ridge, BC.   It was a beautiful sunny day - all day - no raindrops of any sort!  What a difference from other years.  
Almost 50 members, spouses and friends helped to make this a very successful and fun event.  Our friendly members welcomed people from all over the lower mainland who had come to browse the wares of car nuts from all over the province and south of the border.  Lots of people brought out their classics and parked in the show section of the fairgrounds for all to admire.
Check out some of the pictures in our Photo Gallery.
It was a beautiful morning when 19 vehicles showed up at A&W for breakfast and social time before heading out on our Valentine's Run. It was nice to see some potential members in attendance, and also some members out that we don't see very often. Judy gave everyone a beautiful cupcake as Doug handed out the directions of our tour.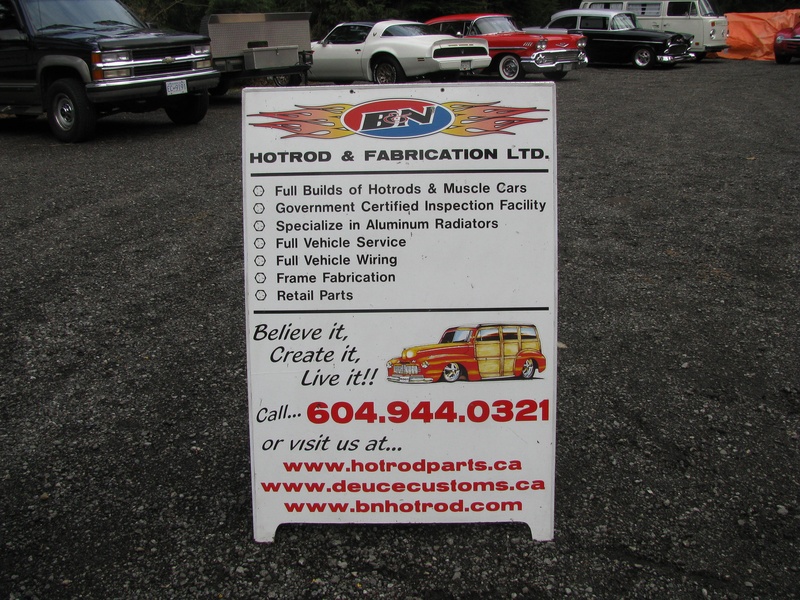 First stop was B & N Hot Rod and Fabrication in Maple Ridge. B & N Hotrod is a family run business that began with Bill Lemon (the president) back in May 1999. Bill's son, Neil, was our host, he showed us around and told us about their family history and a little about each vehicle in his shop. You can read about them at http://www.hotrodparts.ca/About-Us.page. Today we saw a 27 Willys and a 90 Lamborgini - one extreme to the other! We were invited upstairs to the Upholstery shop where we oohed and aahed over Doug's beautiful 38 Ford which was in for installation of upholstery. This was also a coffee and donut stop - as if we need more donuts!!
After the tour, we took a leisurely drive down the old Dewdney Trunk Road over the dam and onwards to Mission. Our next stop was the home of Richard and Marlene. They showed us their beautiful home and garage with its space for 5 full size vehicles, and the wood-work shop in the back.
Our last stop was the Mission Springs pub for lunch and conversation - oh and a chocolate heart!
See all the pictures in our Photo Gallery.
Thank you to Doug & Judy for organizing this event and also for finding us some fantastic weather!
Wet ... wet .... wet .....  you get the gist!!  It rained and it rained - the weatherman said 'passing showers'.  Unfortunately it was like a freeway, the showers were passing each other all day long!!
By 2 o'clock the 400 car registration number had been passed.  Not our best numbers, but a decent showing.
Don and Bev did a wonderful job of organizing and running the registration trailer, keeping all the volunteers on track and running like clock-work.  Congratulations to Derek for winning the 'volunteer' prize.
And, congratulations to Richard and Marlene's 31 Model A for winning the Mayor's Choice Award and to Angela & Del's 37 Dodge for winning the Dad's Choice Award. 
/